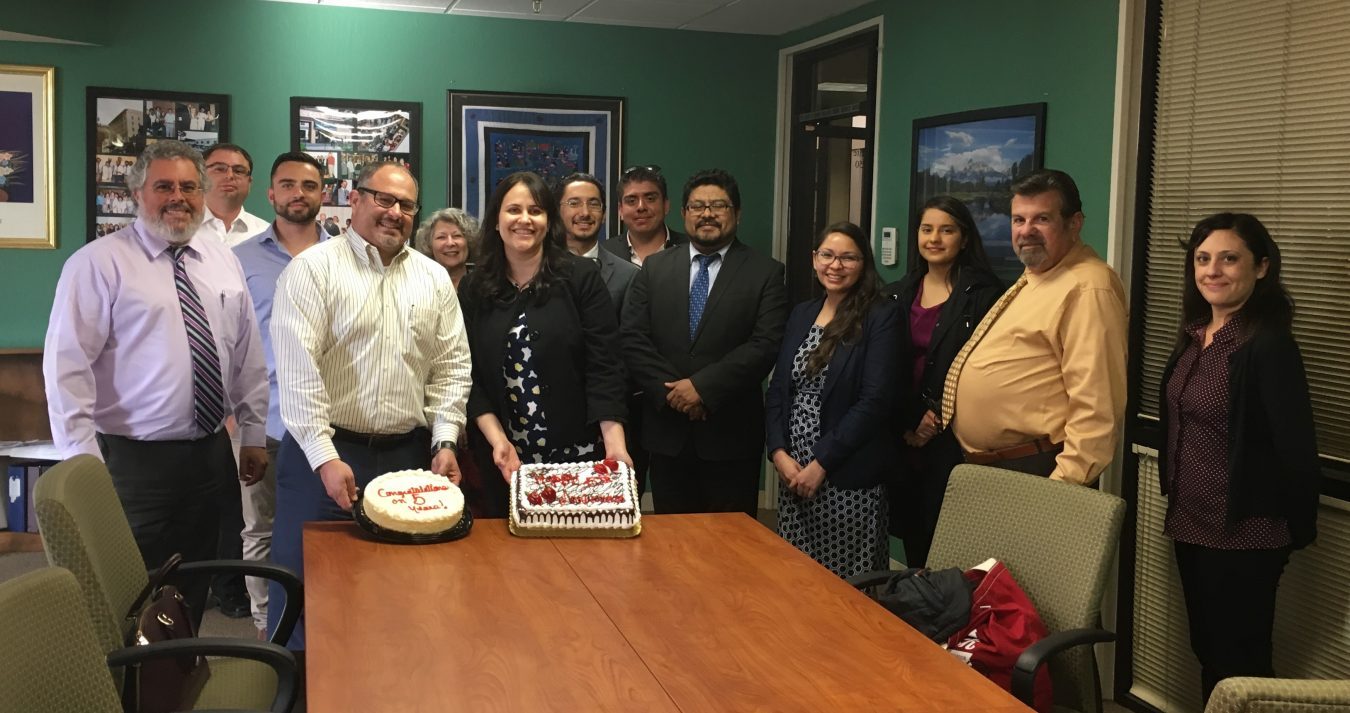 Legal Aid at Work's pioneering Workers' Rights Clinic marked its fifth anniversary serving the Fresno area this month.
Consul of protection Juan Dario Constantino from the Mexican Consulate, Legal Aid at Work attorneys, LAAW board member Ana de Alba, and other volunteers joined us Tuesday night — both to work and to celebrate the milestone.
With support from host Central California Legal Services in downtown Fresno and from de Alba's firm, Lang, Richert & Patch, and the consulate, the clinic has served more than 200 low-wage workers each year since April 2012. It's staffed by law students and by attorneys with LAAW, CCLS, and Lang, Richert & Patch, and it's overseen by our community legal services program director, Mike Gaitley.
Like our other clinics, it serves immigrant and low-wage workers — including undocumented immigrants — who are facing job-related challenges. And it offers a training opportunity for law students and volunteer attorneys. It meets each Tuesday evening. Click here for details, or to make an appointment.
In Fresno, we also provide particular support for veterans, who constitute a large portion of the homeless population there. Helping them to navigate employment-related challenges is an important piece of helping them to regain their footing.
"What a labor of love to launch and sustain this critical service for low-wage workers in the Central Valley," said Senior Staff Attorney Elizabeth Kristen, who leads the work with veterans. "I am so proud to work with such amazing and dedicated colleagues."
Legal Aid at Work attorneys, including Skadden Fellow Stacy Villalobos, who staffs the clinic weekly, also have attended multi-day "Stand Downs" in Fresno, which offer supplies and services to homeless veterans.
Reflecting on the clinic's five-year anniversary, she commented: "It has been such a privilege to staff the Workers' Rights Clinic in the Central Valley. We serve workers in Fresno, Visalia, and Merced, where culturally and linguistically competent legal services are desperately needed. We are the only legal resource in Fresno serving undocumented workers without any restrictions — in a county where about 24 percent of the population is foreign-born. It has been wonderful to serve the courageous men and women who come to our legal clinic and provide them with the information and resources they need to vindicate their rights."
We are proud of what we have accomplished over the last five years through our Fresno clinic and grateful to everyone else who has contributed time and work. We look forward to another five years!