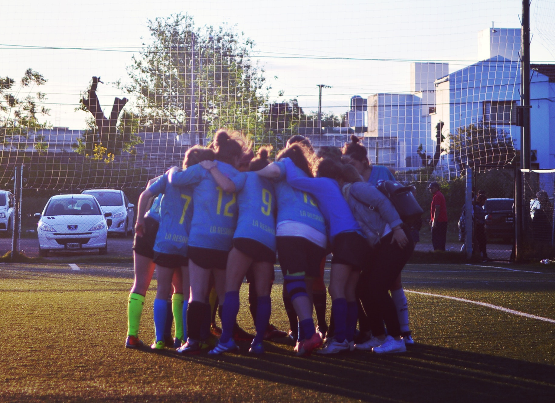 Virtually every article about re-opening school sports these days concentrates on whether, when, and how to offer boys' football and other boys' sports in the midst of the pandemic. Typical headline: Oregon high school fall sports, including football, delayed until spring. Yet, at last count, there were nearly eight million high school athletes (girls and boys) across the U.S., and only 13% of athletes play football. Girls want and deserve to play sports just as much as boys, and all kids are equally entitled to the benefits of participation, not to mention a chance at a life-changing college scholarship. We are all eager to get kids back to their athletic pursuits, universally recognizing how critical physical activity is for our youth in these challenging times. Yet, as schools and park and recreation programs consider how to safely re-launch youth sports, we should do what is right and what the law requires by ensuring that the reopening and running of girls' sports is done with the same urgency, attention, and resources as boys' sports.
Nationwide, in past years, high schools annually offered boys one million more opportunities to play sports over girls—even though surveys show that girls want to be playing in far greater numbers and on an equal playing field. Gender equity in youth sports means educational, workplace, and societal equality. In addition to the lifelong mental and physical health benefits of play, girls who participate in high school sports graduate at increased rates and make 7% higher wages in adulthood, compared to their non-athlete counterparts.
Regularly, when girls do play, they face inferior amenities: underpaid coaches, subpar (or non-existent) facilities, and lesser access to fundraising systems. Disparities are heightened for girls of color and those in low-income communities. And what message does this blatant unfairness instill in our youth? Our 48-year old Title IX federal law clearly requires gender equity in public school sports across every single state, yet awareness, compliance, and enforcement are sorely lacking.
Just some of the athletic inequity dynamics exacerbated in pandemic times:
Girls' and boys' teams having to share already-strained facilities as well as coaching staffs in the midst of compressed seasons—raising the real threat that girls' sports will be practicing and playing at worse times and getting less coach attention than they already do.
Under-resourced park and recreation agencies and schools struggling to re-introduce youth sports while acting as a safety net for children and their families, from providing childcare and learning hubs to furnishing meals.
Expensive, privately-organized pods for sports workouts and conditioning taking place on publicly-supported land, leaving low-income families without options.
Female community sports leagues, like girls' softball, pushed out of their open-use fields by Little League organizations because baseball permits are temporarily frozen–raising the long-term issue that softball deserves dedicated home fields and permit access just like baseball.
School and community sports leagues have often enabled unacceptable hierarchies, consigning girls to a second class that we need not accept and perpetuate, especially in the pandemic and post-pandemic eras. We can recognize and root out gender inequity in youth sports by:
–           Offering Training Opportunities – Use this time-out in youth sports, when seasons are paused or reduced, to train coaches, staff, leadership, athletic directors, and families on laws like Title IX. Our nonprofit project Fair Play for Girls in Sports and partners like the Women's Sports Foundation have free online toolkits and reports to get communities started.
–           Reimagining Equitable Youth Sports – Utilize this period to envision youth sports programming the way it ought to be—equal. Take stock of offerings and creatively apportion facilities, coaching, and resources for everyone to equally condition, practice, and play. Even with tight budgets, programs can rotate spaces, pep rallies, and fundraising opportunities to ensure every team run or hosted through public tax dollars is fairly treated, regardless of gender.
–           Complaining, Demanding Change, and Persisting – If a school or community league isn't gender equitable in athletics, demand change. Write to leadership, complain to the federal Department of Education, report the issue to the state athletics body or department of education, and shine a light on unacceptable practices using local news media.
We wouldn't give girls a defunct playground while affording boys a well-maintained playground. Or allow boys to gain access to re-opened playgrounds earlier on than girls as communities open up. We must stop any such imbalances from occurring within school and community youth sports. Let's use this pandemic-induced pause to maintain our sports support for boys while finally investing equally in our girls' athletic endeavors–because lifting up all of our children, regardless of gender, renders our kids and us stronger and better. We can cross the equity goal line once and for all, starting right now.
Kim Turner is a senior staff attorney and director of the Fair Play for Girls in Sports project, part of the nonprofit legal services organization Legal Aid at Work.