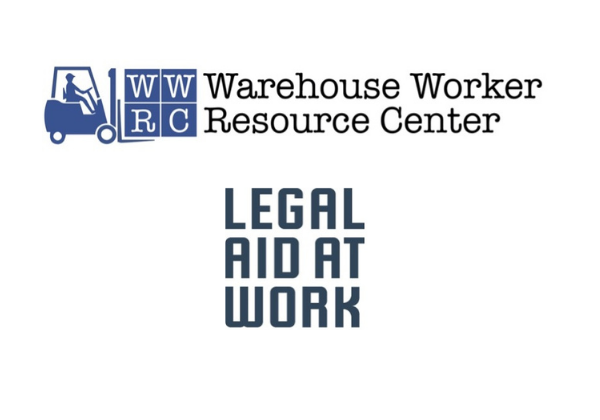 (Ontario, CA, April 6, 2021) — The Warehouse Worker Resource Center is pleased to announce that it will launch Legal Aid at Work's newest location of its Workers' Rights Clinic, devoted to the employment issues of low-wage workers. The Clinic, located at 521 N Euclid Avenue in Ontario, will begin on April 14 and will run from 6:00 p.m. to 8:30 p.m. Thereafter, the Clinic will operate every second Tuesday of the month. Due to Coronavirus safety protocols, clinics will initially operate "virtually" with services provide by phone. People in need of assistance may call 951-394-0236 to make an appointment.
Founded by two venerable institutions—The Warehouse Worker Resource Center and Legal Aid at Work—the Clinic, the first of its kind in Ontario, will provide free legal assistance to low-wage workers who are subjected to illegal practices on the job.
The Clinic will help workers with problems such as minimum wage and overtime violations, failure to pay for work performed, or refusal to grant meal and rest breaks. The Clinic will also provide counsel to clients regarding workplace discrimination based upon race, national origin, gender, pregnancy, disability, language proficiency and immigration status, and will offer information regarding unemployment compensation filings and appeals. Finally, the Clinic will handle inquiries from employees affected by the Covid-19 pandemic at their workplace.
The institutions that have joined to make this new Clinic possible are each committed to providing access to justice to those who are least able to secure it. The Warehouse Worker Resource Center has been in the community offering free services for almost ten years. Legal Aid at Work has represented low-income workers with employment law problems for nearly 50 years, relying on law students and volunteer supervising attorneys who practice in the field of employment law to deliver expert guidance and advice to clients. This is the first time the collaborative model used for Legal Aid at Work's Clinic will be employed in Ontario.
Tim Shadix, an attorney with the Warehouse Worker Resource Center and longtime Clinic volunteer, said "We are proud to join forces with Legal Aid at Work to expand free legal aid to low-wage workers in our area. Now, more than ever, workers in the Inland Empire need a free high-quality legal clinic, as the Coronavirus pandemic has exacerbated many of the challenges long experienced by frontline workers in the region, such as protecting health and safety on the job and accessing benefit programs such as unemployment insurance. This collaboration with Legal Aid at Work perfectly addresses that need."
About the Warehouse Worker Resource Center
Warehouse Worker Resource Center is dedicated to improving the lives of warehouse and other low-wage workers through education, advocacy, and action. We serve as a community center for workers, family members, and supporters interested in knowing their rights, joining with other workers to share experiences and knowledge, and building a movement for workers' rights in the Inland Empire and throughout Southern California. For more information, please visit www.warehouseworkers.org.
About Legal Aid at Work
Legal Aid at Work promotes the stability of low-income and disadvantaged workers and their families by addressing job-related issues commonly faced by low-wage workers. Each year, our statewide free legal clinics offer information, counseling, and referrals to thousands of workers living in poverty. For more information, please visit www.legalaidatwork.org.