Read about our work in our blog, press releases, and in media reports.
Press Releases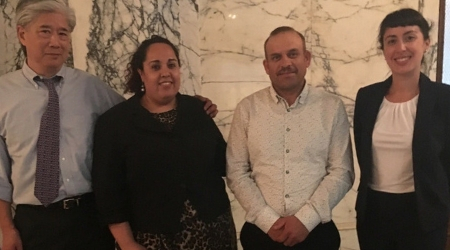 Settlement Ensures that Groundbreaking Ninth Circuit Decision Remains Good Law
January 14, 2019 (Stockton, CA)—After successfully appealing his case to the U.S. Court of Appeals for the Ninth Circuit, a dairy worker has just dismissed his case against his former employer's attorney for retaliating against him when he asserted his workplace rights, after securing a million-dollar settlement.   This settlement is the conclusion of a … Continue reading "CRLA and Legal Aid at Work Obtain Million-Dollar Settlement in Case Protecting Countless Workers From Retaliation"
Read More
All Press Releases
In The Media
The San Francisco Chronicle reported on LAAW and CRLA's $1M settlement in a case that protects countless workers from retaliation. "The case ensures that employers can't game the system by cheating employees and then turning around and threatening to have the employees deported when they stand up for their basic rights,' said Legal Aid at Work attorney Christopher Ho."
Click Here to Read
All Media Coverage
Legal Aid at Work Blog
We were deeply disappointed to learn that Governor Brown vetoed our lactation accommodations bill, SB937, that had strong statewide support from various partners and grassroots breastfeeding coalitions who assist parents on a daily basis in overcoming workplace barriers to breastfeeding. SB937 would have made critical improvements in existing law—improvements that unfortunately are not included in … Continue reading "LAAW and the California Breastfeeding Coalition Vow to Continue the Fight for Workplace Equity for New Parents"
Read More
All Blog Posts