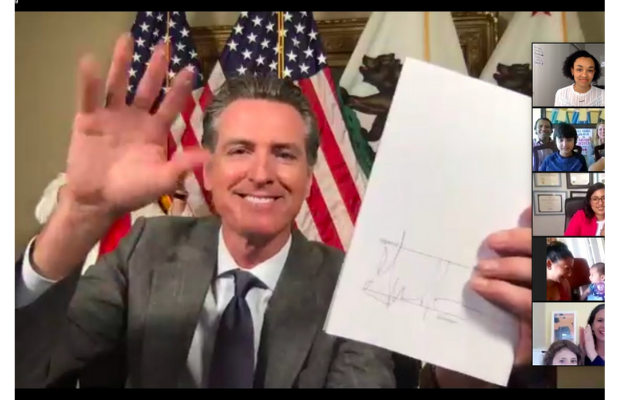 We are thrilled to announce that Governor Newsom signed SB 1383, authored by Senator Hannah-Beth Jackson and championed by Legal Aid at Work.
SB 1383 amends our state's job-protected family and medical leave law, the California Family Rights Act, to cover all employers with 5 or more employees (down from 50) and aligns the definition of family with the more inclusive definition in Paid Family Leave, including grandparents and grandchildren, siblings, parents-in-law, and adult children.
This means that up to 6 million more working Californians will be able to take family and medical leave to care for themselves or a family member with a serious health condition or to bond with a new child without risking their jobs or health insurance. This is a historic victory and a true step forward to making the promise of Paid Family Leave real for all families.
This landmark bill implements the first recommendation of Governor Newsom's Paid Family Leave Task Force, which was comprised of representatives of early childhood education, business, health, and labor communities (including Legal Aid at Work). The bill was championed by the California Work & Family Coalition and had the support of over 200 organizations, including First 5 California, the California Employment Lawyers Association (CELA), the ACLU of California, the SEIU California, AARP, Equal Rights Advocates, NARAL, the California Labor Federation, UNITE-LA, Small Business Majority, Bay Area Council, and California Pan-Ethnic Health Network (CPEHN).
California was the first state in the nation to create a Paid Family Leave program. Legal Aid at Work, in coalition with the California Work & Family Coalition and its members, led the charge for the groundbreaking policy and has championed every improvement since:
We successfully sponsored a bill to create a more inclusive definition of family in the Paid Family Leave program.
We fought for improved wage replacement rates, especially for low-wage workers, and to remove the one week "waiting period" which forced families to suffer a week of income loss before they could qualify for Paid Family Leave benefits.
We helped align California's program with federal law to address the needs of military caregivers.
We helped create and pass the nation's first fully paid parental leave in San Francisco.
And, we expanded job protection rights for parents taking Paid Family Leave to bond with a new child, protecting the long term financial security of millions of new parents across the state.
We continue to work to improve and ensure equitable access to Paid Family Leave because we know that it is a lifeline for our clients and communities.
We were honored to be selected to serve on Governor Newsom's Paid Family Leave Taskforce, along with 8 other experts from business, labor, health, and early childhood development. The Taskforce convened regularly in 2019, and based on vigorous research and collaboration, developed recommendations to make California's paid family and medical leave programs equitable, accessible and once again a model for the nation. The first recommendation was to improve job protection to ensure that Californians did not have to choose between using the benefits they pay for and keeping their jobs. The lack of job protection was a significant barrier to accessing paid leave, especially for low-wage workers and workers of color.
At LAAW, we regularly hear from dads like Jorge, who worked as a busser for minimum wage.  When his newborn was in intensive care, his employer told him he could either return to work immediately or he would be fired.  Jorge said,
"My employer's decision to fire me left my family and me very vulnerable. I was the main breadwinner for my family… This was an emotionally, physically, and financially draining experience during an already stressful time in my life. I am devastated that I lost my job and I am stressed to see how I will support my family."
Jorge qualified for Paid Family Leave, but because he did not qualify for job protection because of his employer's size, his entire family was destabilized.
During the current pandemic, millions of workers are facing this impossible choice – between their health and families or their jobs – with dire consequences. Workers of color and low-wage workers are disproportionately impacted, highlighting how critical it is that we have public policy that truly meets the needs of working families. Job-protected paid leave saves lives.
We are honored to be among the fierce champions advancing equitable paid leave in California. SB 1383 builds on that legacy. It is a momentous victory that will improve the lives of countless workers, families and communities for generations to come.