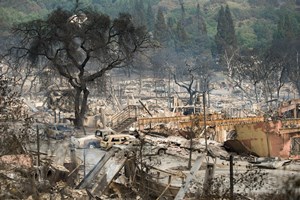 When government officials declare that a situation is a disaster, certain specific benefits become available to workers. But many of workers' existing rights also can be helpful in the event of a disaster — including the rights to sick leave, family medical leave, disability insurance, and workers' compensation.
Read our new fact sheet about Workers' Rights After a Disaster. And keep checking our blog to learn about additional new resources we are producing to serve workers affected by the Northern California wildfires of October 2017.
And remember: Undocumented workers have nearly all the same rights as other workers.
To learn more about the employment rights of immigrants, please check out our new video in Spanish and English. The English version is available with subtitles in three additional languages: Chinese, Vietnamese, and Tagalog.
To learn more about our direct services or to make an appointment to discuss your case with one of our legal counselors in person or by phone, please visit the Clinics and Helplines page of our website.
Legal Aid at Work delivers on the promise of justice. We provide free information and training and free direct services for low-wage workers. We also litigate individual, impact, and class actions, and we work for better policies and laws to support workers and their families. Learn more on our website. Or search #YourRightsatWork on Twitter.